One of the main issues your company faces when trying to tame the Pinterest monster is that your company isn't particularly 'artistic' or glamorous. How can a towing equipment business create content that is appealingly appropriate for the likes of Pinterest? Well it's not as difficult as you would think.
Not all of the pictures on Pinterest are professional grade photographs or animations, in fact most of them aren't.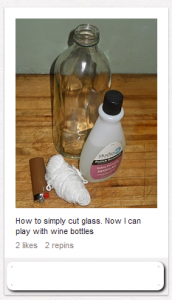 For example, this pin on the right explaining how to cut glass looks like an average quality picture taken on the uploader's dining room table.   With the technology, we have nowadays the picture quality from a smartphone can meet, or even surpass the capabilities of that from a point and shoot camera. Not to mention the number of free apps, most notably Instagram, that spruces up your images giving them a profound edge.
But even with a fancy filter, is a picture of a suburban Australian front yard going to gain traffic and really draw attention to your company? Maybe it won't.
The Solutions:
Change Perspectives
Just like you wouldn't design a text heavy billboard because those driving by wouldn't be able to read it, you can't upload generic, stock car images from your company's website to Pinterest and expect success. You have to understand the medium in which you're operating: the demographic of Pinterest users is 87% female and the Pinterest forum is admittedly a home for people to find new things and be inspired.
Change it up! Give your company's image and product a new perspective by uploading pictures of products with unique vantage points or angles.
What if your company doesn't sell a tangible product? You have to find a creative way to evoke interest in your company's genre. Referring back to my lawn care service example, upload before and after pictures of a job your company has done (whether it be a drastic transformation or just a new layout), incorporate extreme close ups of grass or flowers from one of the jobs,
Take pictures of equipment and in the description explain the tool's use or nece
ssity. This leads on to my next point…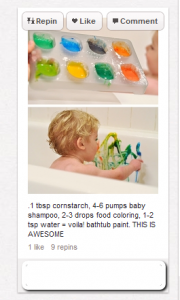 Upload Free Content
One of Pinterest's most popular categories is 'DIY and Crafts'. Even if the content isn't found directly in this category, most successful pins circulating in the Pinterest abyss follow its criteria: informative or instructional information.
For example, the pin on the right is part of a series that contain information explaining how to make bathtub finger paint or organise your ribbon collection. The pins showcase tips to a successful marriage or a sleep calculator telling you the best time to go to bed depending on the time you need to wake up. Pinterest users and anyone really, love receiving free content especially when it's helpful.
Pins that do this constantly get re-pinned and are main contributors to P
interest's ever increasing referral traffic stats.
Link Content Back To Your Company's Website
When you pin something to Pinterest from an existing website, and a user clicks on it, they are directed back to the source. This is the main benefit for businesses to create Pinterest accounts. If your content is successful in attracting users, the content itself will drive traffic to your company's website and hopefully sales.
Putting all of your pictures or images in a photo gallery on your company's website is the best clutter- free way to store all of the content you post on Pinterest so you don't lose the opportunity for referral traffic.
An Alternative: Use other people's content rightfully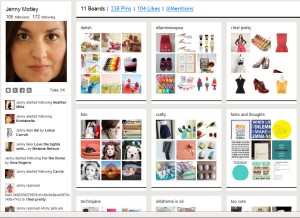 If all of this seems too much, if creating content right away seems overwhelming or you don't have the resources to do so, there is an alternative. Just start a Pinterest account for your business and get used to it. Re-pin other peoples content to your own boards. Since re-pinning is such a large part of the Pinterest process you can still gain a lot of views and traffic if you re-pin quality content.
Make an effort to create consistently interesting boards, even if it's only re-pins, and you'll be surprised how many people will start coming to you for content. If you are a lawn care business re-pin beautiful landscapes and flower beds, re-pin appealing house fronts, re-pin anything that is appropriate for your company's genre.
Don't forget to take advantage of the 500 character description box, even on re-pins you can customise the description, and include information about your business or a link to your company website. Once you get more comfortable, you might build up enough knowledge and courage to start uploading your own content.
Has this been helpful? What are your reservations about starting a Pinterest for your company? Get more insight on Pinterest for your business by dropping me a line at  Justin@StellarDigital.com.au.